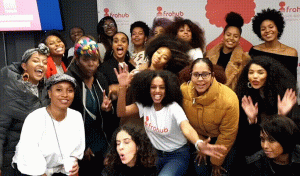 Having spent years of wasted time and effort struggling to find hairdressers and beauty 'experts' able to handle her curly Afro hair and brown skin, FroHub founder Rahel Tesfai realised that her demographic was not being catered for on the High Street nor online. As I'm sure many of you can testify to, this struggle was both real, painful, and all-consuming! So in 2019 Rahel started FroHub as an online Community which she initially hoped would result in the better transfer of information. As more effort, thought, and love was poured into what was initially her side hustle, the idea of an online platform, or hub, for all things black hair and beauty started to crystallise. And this is where FroHub has got to in 2023; the creation of this beautiful, easy-to-use, online destination which has become the largest Afro hair and beauty booking platform in the UK.
Rahel is driven by the inspiration to improve the lives of black women worldwide, and feels that FroHub is a fantastic vehicle to allow her to do so. The Community that has been built so far will continue to see the 5th UN Sustainable Development Goal, to empower women through technology, be at the core of thinking and growth strategy. By allowing a traditionally-offline industry to move online, FroHub is not exclusively a booking platform; it's also a forum where black women can learn how to better take care of their hair, read blogs, watch tutorials and exchange ideas; we want to engender trust and collaboration within our Community. Black hairdressers are often more than someone with a pair of scissors; they can provide support, confidence, relevance and belonging, and through our platform we want to enable women to grow to reach their full potential. After all, black hair is more than just an aesthetic, it is also an important cornerstone of black culture and society.
Empowering women to finally have more control over such a big, important part of their lives, both as clients but also through the help and support FroHub gives business owners, is an important step in getting equality in all walks of life. The importance of FroHub's potential impact has been recognised as Rahel was one of only 10 women to be selected to take part in the inaugural Google Female Founders Residency. She was listed as one of the Most Influential UK Women in Tech by Computer Weekly, named a Top 50 BAME Entrepreneur by TechRound, Top 100 Women in Tech by WeAreTechWomen and listed in the Top 10 of The Telegraph x NatWest 100 Female Entrepreneurs to Watch.