What are peekaboo braids and why are they trending?
The presence of box braids
Before we get into peekaboo braids, lets talk braids. Braids have been used as a type of hairstyle within the black community for thousands of years. Historically, they have been used as a way of presenting one's identity - whether that be the status, religion or ethnicity of a person. Today braids have remained a very popular hairstyle amongst the black community. From being used as a form of protective hairstyle to tackle the harsh winter months, to being chosen as a form of artistic and individual expression of identity. Box braids have continuously remained a common go-to hairstyle.
Standing out with braids
Though the braids of the past differ drastically from what braids are today, one could argue that the braids of today have lost some of that pizzazz. Many of the braided hairstyles today tend to stick to one shade in a playing-it-safe kind of way. However, summer 2022 is all about taking risks and standing out from the crowd!
From the blonde streaks trending on social media back in 2019 to the more recent Love Island 2022 contestant Indiyah grabbing the attention of the viewers with her two, eye-catching blonde streaks on the side of her hair, adding a bold and contrasting colour to a section of hair has been the new trend for a while now.
What are peekaboo braids?
Peekaboo braids specifically on the other hand are the newest trend for the community of braid wearers. Similar to the blonde streak hair trend, peekaboo braids refer to box braids whereby a section of the hair is braided with extensions in a bright colour in contrast to the rest of the hair which stays a different colour. The word peekaboo which is used to describe the hairstyle comes from colour-popping braids peeking out from the rest of the hair, often adding that subtle and unique touch to the hairstyle. Though many black women may have recalled doing a hairstyle similar to this when they were younger, we have now just put a name to it as it has been on a significant rise this year. 
Why should you switch to peekaboo braids?
As previously mentioned, peekaboo braids are great for standing out. Instead of sticking to the standard box braids or the more recent knotless braids, why not switch it up with a pop of colour? Peekaboo braids are great for adding that personal touch to your style. From selecting a bold colour which represents you the most, peekaboo braids allow for people who see you to really notice you as they start to associate that style with you due to its distinctiveness. 
Peekaboo braids in summer 2022
As we are in the midst of summer, why not add this style to your checklist of ways to style your box braids in summer 2022? With the heat and humidity present during the festival and holiday season, peekaboo braids are a great choice of protective style that can cut down time in your daily routine, while still feeling put together and stylish with your new hairstyle.
How long are peekaboo braids here to stay?
The great thing about this hairstyle is that despite it being on the rise recently, the hairstyle has had its presence within the black community for years and so the likelihood of this hairstyle going out of style anytime soon is low! Nonetheless, if you believe this hairstyle is the one for you, it can never go out of style. Rock with what you like!
What are some examples of peekaboo braids?
There are many ways for you to style your peekaboo braids to fit with what you want. Whether that be having a back portion of the hair a different colour to the fringes of your hair, the choice is yours. Peekaboo braids allow you to experiment and exercise your personal tastes. With that being said, below listed are a few of the more popular ways to have your peekaboo braids. Remember, this list is not exhaustive so feel free to change it up to fit your style!
6 ways to style your peekaboo hair
Beaded peekaboo braids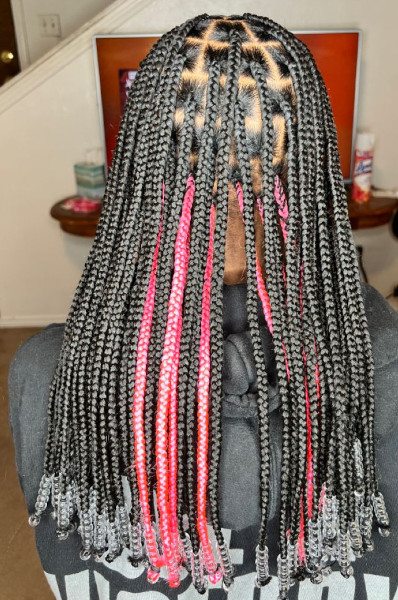 One way to style your peekaboo hair is by adding beads to the end of your hair. Give your hairstyle that extra edge by finishing it off with some beads.
Subtle pink peekaboo braids 
Alternatively, if you feel like keeping it simple, you can always go for a subtle peekaboo look. This can be achieved by only having a few braids in a different colour. Essentially, this will represent the peekaboo effect as only a few of the braids will appear in a different colour. This is basically the image above without the beads.
Streak peekaboo braids 

Similar to the subtle peekaboo braids, there are the streak peekaboo braids. This style of peekaboo braids also appears subtle yet stands out more as a small section of the hair is strictly another colour. This choice helps to create a more clean look aesthetic for peekaboo braids.
Multicolour peekaboo braids
If you feel the addition of one colour is too simple, why not jazz it up with multiple colours representing the peekaboo hair? 
Cornrow peekaboo braids
Just as you may have peekaboo braids, they can also be in the form of cornrows.
Curly peekaboo braids

Now blonde peekaboo braids are a classic. However, if you are looking to stand out a bit more curling the end of your hair may do the trick.
I do hope this post gave you a helpful insight into peekaboo braids and you have now left with some more knowledge and motivation to get your peekaboo braids. 
For more things peekaboo braids or other hairstyles, find and book Afro hairdressers near you at FroHub.