20 trendy ways to style your box braids for Summer 2022
What are box braids?
Box braids are a type of protective hairstyle that remains popular amongst African people of decent. It involves the braiding of one's hair with extensions and square partings to make a box-like design. Despite the existence of hair braiding styles dating back to 3500 BC with its roots stemming from the African culture, the recognised hair braiding style, known as Box Braids became popularized by the likes of celebrities such as Janet Jackson in the movie Poetic Justice from the 90s. 

The rise of knotless braids 
What are knotless braids?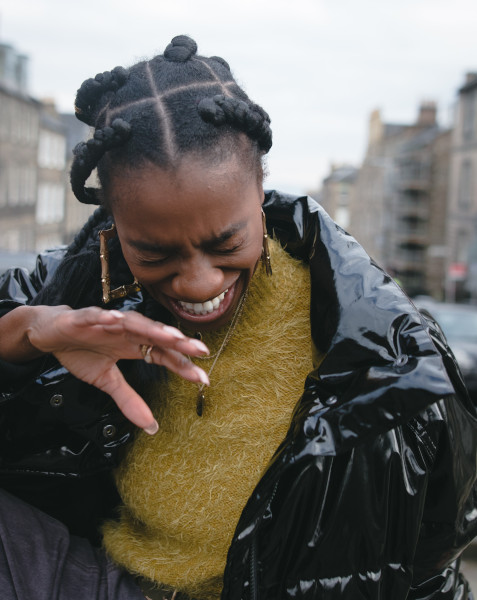 Nonetheless, since 2019 there has been the rise of knotless braids which instead of using two pieces of hair to complete one braid, involve a feed-in technique which includes the continuous contribution of multiple pieces of hair to make feed-in braids. Many have turned to this type of hairstyle as a result of blending seamlessly with the hair due to the no-longer-existing knot at the root of the braid. As well as that, it has been known for reducing the tension and manipulation of one's natural hair on the scalp straight after the installation.
Are there cons to knotless box braids?
However, there are a few downfalls to this hairstyle. Despite there being reduced manipulation on the scalp, installing box braids as it stands is already time-consuming. Unfortunately, the installation of  Knotless braids only adds time to the installation process thus increasing the price tag if wanting to do this type of style. Furthermore, you will often find traditional box braids lasting a longer time than the newer knotless braids as a consequence of the braids being less secure with the feed-in technique. However, if you are looking for a seamless box braid look, knotless may be the way to go!
How to prep your hair for box braids?
When installing knotless braids it is important to get your hair ready to ensure you get the most out of them in a way that the hairstyle lasts and your hair remains protected from damage.
Here are my top tips!
Make sure your hair is freshly washed 
A clean scalp is important as once you have installed the braids, it will be a lot harder to keep your hair clean. Thus, following this step allows your hair to last longer and remain healthy.
Make sure your ends are not damaged or overly split 
Having a trim before you install braids (if needed) is always of benefit to your hair as installing braids on damaged hair will only add to the damage your hair already has.
Make sure your edges are healthy 
Braids are great for making your edges snatched but your edges can literally get snatched if they are already sensitive and damaged. Make sure you analyse the health of your edges before adding the manipulation of braids.
Make sure your hair is moisturised 
Moisturised hair is a must in my opinion. Your hair is being locked away for potentially 6 weeks or more. The last thing you want to do is to tuck away dry hair that will be hard to access during the time you want to re-add moisture back into your hair. It is important to note some hairdressers require you to come with no product in your hair so they can ensure your hair is neatly tucked away. They may moisturise your hair a bit but not saturate your hair in product. To stay on the safe side, make sure your hair is deep-conditioned beforehand to add back any moisture lost during the shampooing process.
Stretch your hair beforehand 
Now, this is a bit of an iffy one as many understandably do not want to add heat before installing braids due to the excess heat involved. However, many hairdressers prefer to work on stretched hair as this allows for an easier installation of the braids where the extensions blend in more with the client's hair. Alternatively, you could see if you could do it without stretching if you don't mind the flyaways. Or you could opt for another method of stretching the hair which does not involve heat such as African threading. If you do decide to blowdry your hair, just make sure to use a heat protectant.
How do you care for the braids and your hair while in the hairstyle?
It's one thing to get beautiful box braids. It's another thing to be able to preserve your braids and the health of your hair while in them.

Here are some tips for caring for your new box braid hairstyle!
Remember to wrap your hair at night with a silk/ satin scarf or hair bonnet
Wrapping your hair at night or wearing a bonnet helps to reduce the friction and moisture loss caused by your cotton pillow. This will reduce the chances of the hair peeking out of the braids and drying out.
Continue to moisturise your hair 
It is important that you don't neglect the needs of your hair whilst in its protective style. Therefore, one of the things you should continuously do at least once a week is moisturising your hair. I prefer to limit the number of products I use while in braids as the last thing I want is build up. For that reason spraying my hair with a bit of water (with leave-in conditioner mixed with the water at the most), and then sealing with a light oil such as almond oil does the job. 
Cleanse your scalp when needed 
It's common knowledge that coily black hair does not need to be as frequently washed as type 1, straight hair. However, this is not something to be avoided while in braids. If you are starting to experience build-up, cleansing your scalp is of huge benefit to minimize build-up until the takedown of the braids. 
How do you reduce breakage from the take-down process of box braids?
The take-down process is often rushed and not thought about often enough, but arguably the most important stage in having box braids as a hairstyle. Why do I say this? Well speaking from personal experience, after having my braids in for a long period, I notice the hair growth. However, whenever I seem to take down my hair, it tends to look like the hair growth has vanished. "Why is that?" You make ask. Let's just say it's all in the take-down process. Although, I may not have all the answers, here are a few of the things I have learnt during the journey of learning to take down my braids.
Tips
Make sure you have

set time out of the day to take out your hair

. This can be a lengthy process so giving yourself the grace of time allows you to decrease your stress levels, therefore, decreasing the amount of manipulation you put on your hair. 

Moisturise the length of your hair in the braids

before take-down

. This is essential as taking down braids on dry hair can cause unnecessary breakage from the manipulation and detangling. A spray bottle and some leave-in conditioner should do the trick. You could also mix the two before spraying them on your hair.

Don't cut your hair too short

. If you have waist-length braids (unless your hair is super long), most likely you would want to save time in the take-down process by cutting your hair shorter. Just make sure that you are not cutting the length of your real hair off. 

Slowly detangle your hair once the extension has been removed

.

Do this for each plait or cornrow once you take it out. Do not wait until you have removed all of the braids as you will make the detangling process more complicated and stressful than it needs to be.

Twist or braid the section of your hair away

once you have removed enough extensions for it to be grouped. This helps to keep the hair detangled and out of the way as you move across your head of hair until everything is complete. 
20 trendy ways to style your box braids for Summer 2022
Knotless box braids

Book Afro Hairdresser Hair By Grace
These are the newly updated box braids that you most likely have been seeing become popular since 2019. This knotless hairstyle not only looks more like a continuation of your natural hair, but the tension with the hairstyle is a lot less compared to traditional box braids.
Brown box braids 
Book Afro Hairdresser thebraidtechnician
This summer many of us ladies are bored with having colour 1b (black/dark brown) so why not switch it up for a more nude-ish or brownish colour? This simple switch can completely change your look as you try something new.
French curl box braids 
This style goes by the name French curl box braids. However, other people may call it layered box braids. Whatever the name, this is a very cute style for the summer if you are looking for some layers and a touch of curls to the end of your braids.
Ombre box braids
Box braids where the extensions used are two different colours look fantastic as box braids and can help take your style to the next level.
Pic and Drop braids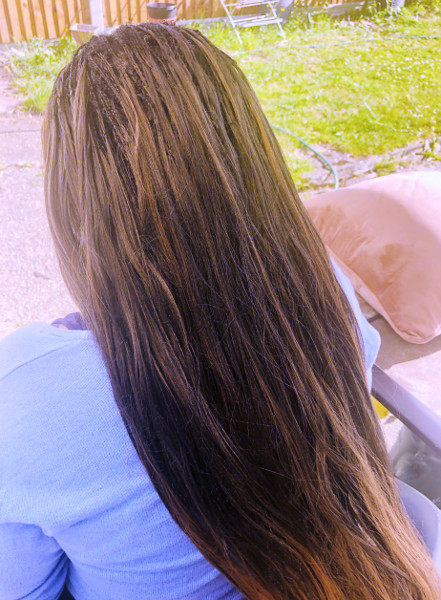 Book Afro Hairdresser Naturally Ameira
Now, this hairstyle is an OG style that is now back in circulation. The style which involves braiding the length of your natural hair and then "dropping" or leaving the ends "incomplete" has caught our attention again.
Short box braids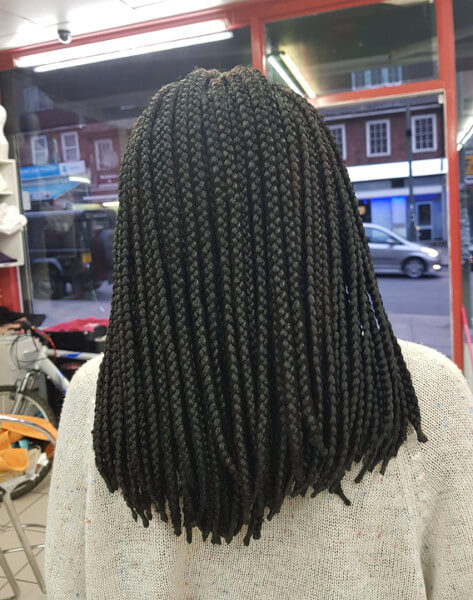 Book Afro Hairdresser Luemas Hair and Beauty
Change your box braids look by having them short in length. This look is a very simple yet classy look that can frame the face well. As well as that, it is a very practical style for the summer months which leaves you feeling light.
Goddess box braids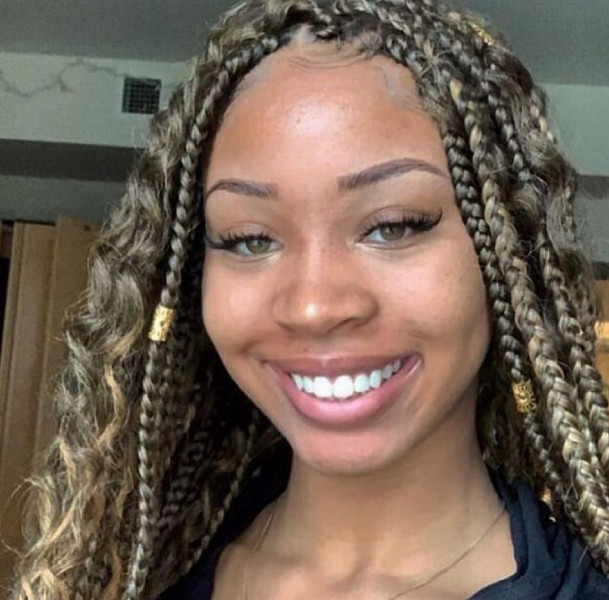 Book Afro Hairdresser Jojo's braids
This look which combines curly hair with box braids is very angelic. If you want your hairstyle to appear more feminine than the traditional box braids this is a great option to choose. 
Long Box braids 
This look is an iconic one. If you're looking to have all eyes on you, these gorgeous extra-long box braids are a must! Not only do they look great down, but they also look amazing in a bun due to the extra volume.
Jumbo box braids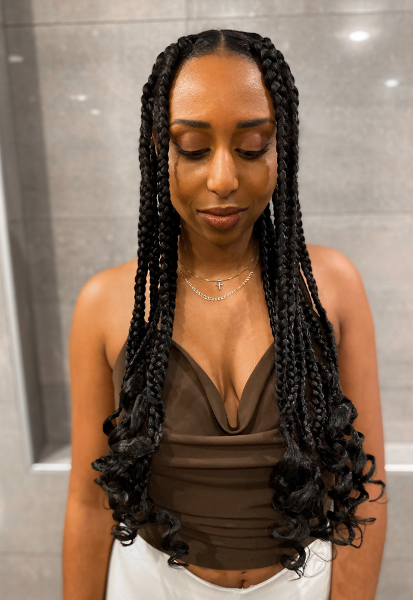 Book Afro Hairdresser Hair By Winta
I love the concept of jumbo box braids because they are very quick to do compared to medium or small-size box braids. Although they last for a shorter amount of time, they also have the perks of being quick to take down and can be less manipulative with your hair.
Small Knotless braids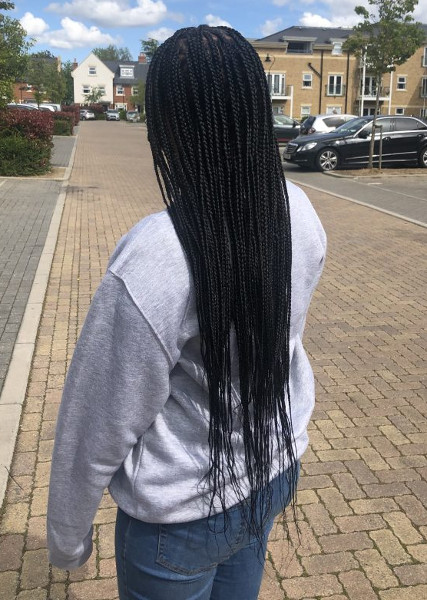 Book Afro Hairdresser Custom Cornrows
Small knotless braids are a great go-to. This protective style will last you long whilst also providing you with multiple options to change it up.
High bun
This style is a great way to change up your already installed braids. From running errands to having a date night, this hairstyle is very versatile and will cater to most of your needs.
Box braids with multiple buns 
Alternatively, if you want to take your bun to the next level you can switch it up with multiple buns. Though this look would be great for any season, this hairstyle would shine bright, especially for festival season. Whether that be Notting hill carnival or British Summer Time.
Bohemian box braids 
There is something so laid back and effortless, yet put together about bohemian braids. If this sentence along with the image describes what you are looking for then this may be the hairstyle for you!
Box braids with Bandana
Now it's one thing to have box braids installed and call it a day. It's another thing to add pieces to it to make it more stylish. Why not try adding a bandana to it to give it more of a tomboyish look? Or perhaps make it more girly by leaving out some front pieces of hair.
Braided half-down ponytail
Opting for this style where half of your hair is braided into a low ponytail helps give more texture to an already textured look. It makes your braids look that bit more different and less basic.
French braid
If you're looking to add more texture to the style but the previous style is not up your street, you could also try going for a French braid! I love this style for its versatility and practicality. Not only can this look be used for everyday life on special occasions, but it also allows you to get on with your day without having to worry about hair on your face.
Box braids in a ponytail
Having your box braids in a ponytail is arguably a default hairstyle for many of us ladies. It frames your face well, gets your hair out of the way, and is super easy and quick to do.
Peekaboo box braids 
Peekaboo hairstyles are currently everywhere. Peekaboo braids however are on the rise. Simply change up your hairstyle by changing the colour of the extensions of a few of your braids.
Side part box braids
Perhaps the styles shown above are just a tad too much and you want your hair to be left alone. A side-parted look for box braids is a great go-to. A bit more unique than the traditional middle parting, yet it also does not require much to be done. Simply move a few braids to the side and voilà! Other than the basic ponytail look, I like to go for a side parting because the amount of added tension involved compared to other hairstyles for box braids is little to none since you just leave your hair alone in a side part.
Laid edges
Now this one may not be considered a hairstyle, but it is a great way to make old box braids appear new and fresh again. Use edge control and a small brush to add a few swoops to your edges to help revive the hairstyle.
Hope this blog post centred around knotless box braids and regular box braids gave you the information and inspiration needed for you to make an informed decision on box braids and their hairstyles. If you're looking for a hairdresser who does traditional box braids or knotless box braids, you can find and book Afro hairdressers near you at FroHub.