Top Fulani braids hairdressers in London
What are the origins of Fulani braids?
Fulani braids have made their stamp throughout the black hair community. Originating from the Fula tribe of West Africa, spanning all the way to America with Alicia Keys' iconic hairstyle of the early 2000s, to today where many young women are showcasing their Fulani braids on social media - Fulani braids have had a strong presence throughout many generations. 
What are Fulani braids and how are they achieved? 
But, what actually are Fulani braids? How can they be achieved? Well, think of them as a distinct pattern to cornrowing hair. They usually involve the majority of one's hair being cornrowed from front to back while one or a couple of cornrows are cornrowed on the side of the head going from back to front, thus leaving them left to hang. However, with Fulani braids, the hairstyle can be further styled by creating unique braiding patterns such as overlapped, crisscrossed cornrows. The hairstyle is usually finished with hair beads and accessories to add more character to the style.
Are there alternate names for Fulani braids?
Like with many other hairstyles, Fulani braids may be referred to with different names, but are essentially the same style. As for the Fulani braids, other commonly used terms used to describe the hairstyle includes tribal braids. Ghana braids is another term used. However, if you're looking to achieve Fulani braids as described above, it may be best for you to refer to them as Fulani/ tribal braids as the hairstyle is quite distinct. Ghana braids, in particular, is a hairstyle which generally describes cornrowing one's hair back using a feed-in technique so the braids get gradually bigger.
Lemonade braids are another hairstyle that is similar to the former and latter hairstyles mentioned. If you know of lemonade braids, you probably know the face of lemonade braids - Beyonce. With the term lemonade braids stemming from Beyonce's visual album Lemonade, all one has to do is search it on Google to find out the style is easily distinguishable. But, for those who are continuing to read, the lemonade braids are essentially cornrows braided to the side of the head, leaving all of the hair to flow down from one side.
What are the advantages of wearing Fulani braids?
This is a no-brainer - They are absolutely stunning. 

Adds character to your whole look - Fulani braids tell a story. Don't be surprised if people's heads turn because, with a beautiful style like this, they definitely will.

It's a protective hairstyle - Fulani braids are a great form of protective hairstyling. Keep your ends tucked away from the harsh elements and moisturised by opting for this hairstyle. 

Easy to maintain - Unlike box braids where many choose to style further, because this hairstyle already has a lot going on, once the style is fully installed, there's no need for additional styling during the course of wearing this hairstyle (unless you want to, of course).
What are the disadvantages of wearing Fulani braids?
Less versatile than box braids - Because the hairstyle is so particular, you may feel like there's less versatility in the style. Nonetheless, the amount of character in the style will probably leave you satisfied and without the urge to change things up.
Doesn't last as long as box braids - Although Fulani braids are a great protective style, the added use of curls and cornrows can make the hairstyle less long-term than traditional box braids. However, don't be alarmed, Fulani braids still last long enough to protect your hair, whilst providing you with a beautiful hairstyle.
How can they be styled?
With beads - jazz up the hairstyle a bit by adding some braid accessories

Half up, half down ponytail

Low bun
Having looked into what Fulani braids are and why you should get them, it's now time to look into the hairdressers offering this style!
Tips before booking your Afro Hairdressers
Once you have found an Afro hairdresser near you from our best hair braiders in London list, click on the style and you will be taken to a page where you can see photos, read reviews and fill out a few simple details to confirm your booking. These may include (but are not limited to) your location, the date you wish to get your hair done, and the time of the appointment. You will then send a request to book a hairdresser - it is that simple!
Each hairdresser is an independent hair professional, so ensure you check out their terms and requirements before making a booking. Everything you need to know will be available on the hairstyle you are wishing to book. For any additional questions that you may have about the hairstyle, you can also always speak to your hairdresser directly by using the messaging function on their FroHub business profile.
Now that's out of the way, let's get to the more exciting stuff. The Afro hairdressers themselves!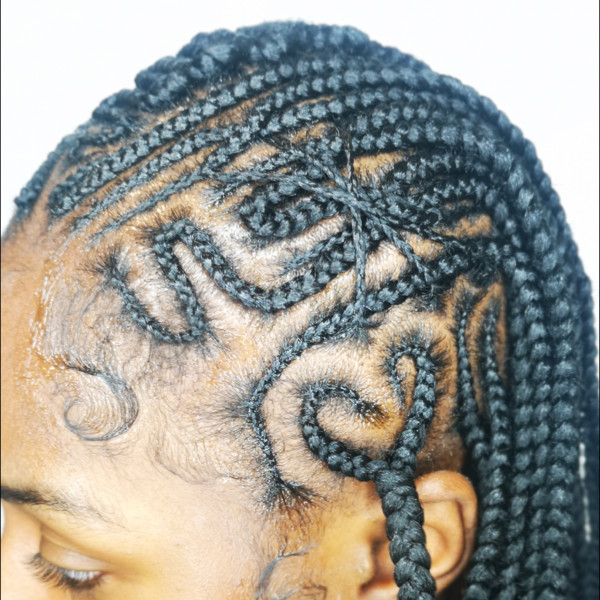 Home-based Afro hairdresser, The Braiding Zone, knows what she's doing when it comes to hair. If you choose her to do your hair, you will leave her house having been satisfied by her wonderful work. Not only does she provide beautiful and neat cornrows, but she also does it without adding tension and stress to the hair. For those in the East London area, why not give her a try? For more information regarding booking this Afro hairdresser, please check out their page.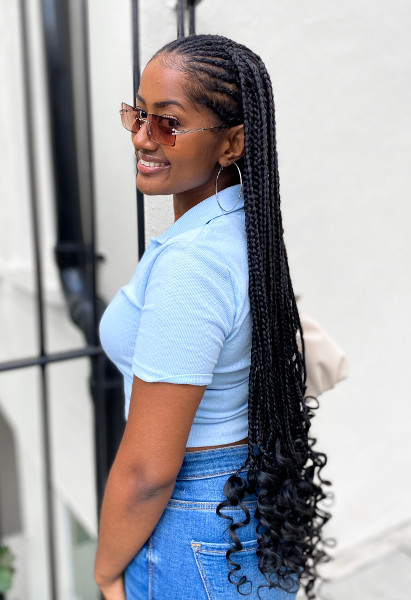 Perhaps you're looking for a home-based Afro hairdresser within the West London region. Hair By Winta is a fabulous hairdresser based in West London that can walk the walk. Her waist-length Fulani braids are not to be messed with! For more information regarding booking this Afro hairdresser, please check out their page.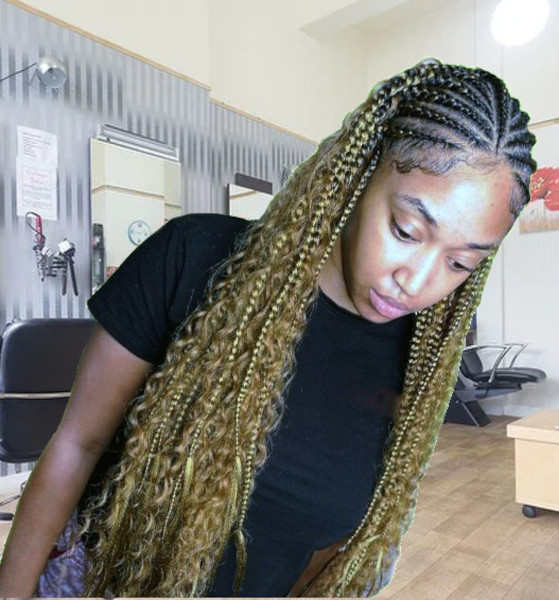 Tamara's Hair Studio is a salon-based Afro hairdresser in Leyton, East London. She is an experienced and talented hairdresser who can spice up your traditional Fulani braids with a curly twist. Think of it as Fulani braids meet bohemian goddess braids. For more information regarding booking this Afro hairdresser, please check out their page.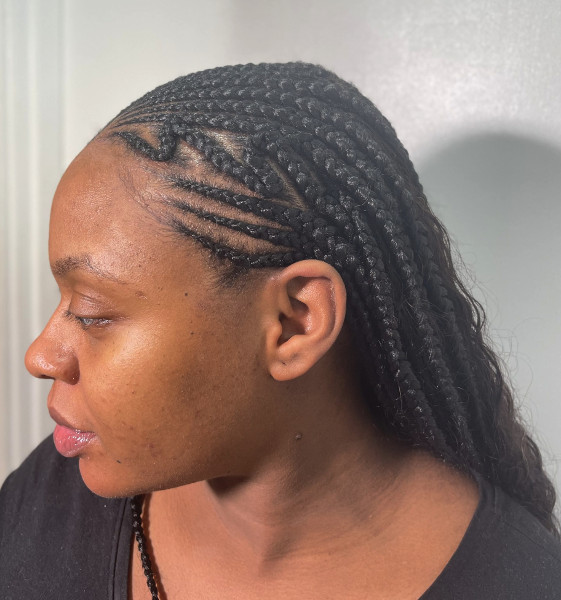 Slayed By Ed is a skilled Afro hairdresser based at home in South East London. With many years of experience, know that you are in good hands. Slayed By Ed combines both Fulani braids with the more flowy and laid-back bohemian look. You essentially will achieve the best of both worlds but opting for a style like this. For more information regarding booking this Afro hairdresser, please check out their page.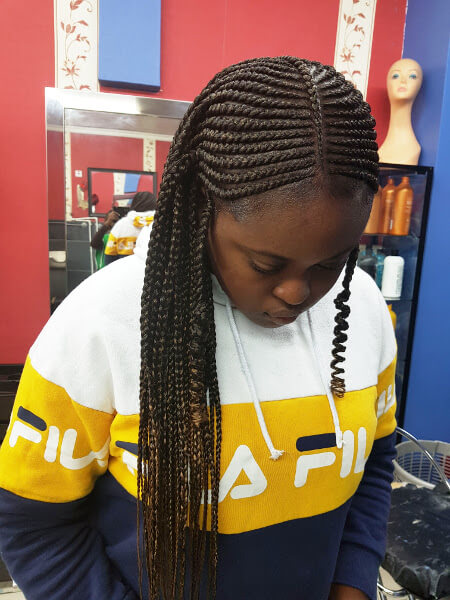 Salon-based Afro hairdresser Luemas Hair and Beauty is a welcoming hairdresser who specialises in braiding styles, crochet, and hair extensions. However, for the purpose of this blog post, let's focus on her unique Fulani braids. If you're close by or willing to travel to Edgware, North London, Luemas Hair and Beauty is a stop that should be made. For more information regarding booking this Afro hairdresser, please check out their page.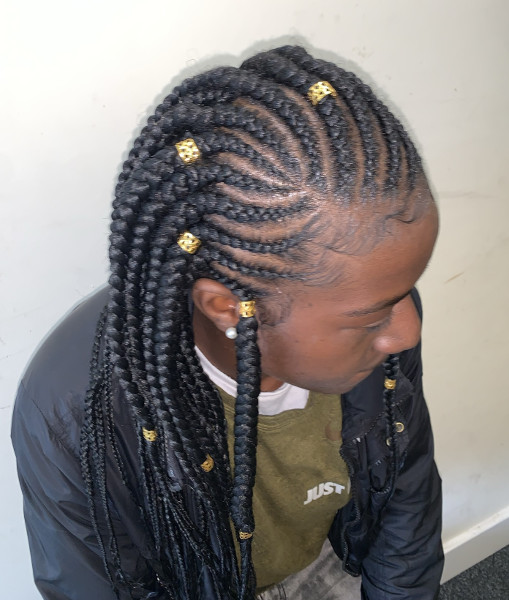 Hair Braiding Meraki is a mobile Afro hairdresser who can give you a stunning Fulani braid hairstyle with a side part. If you're looking for a therapeutic crowning experience from a lovely woman, then you should let Hair Braiding Meraki swing by you. For more information regarding booking this Afro hairdresser, please check out their page.
And there you have it! I hope this blog post has given you a taste of what Fulani braids are and what we can offer you. If this blog post did it for you, why not check out our other Afro hair and beauty blog posts and check out some of our top Afro hairdressers near you?